Waiting on Wednesday is a weekly feature created by Jill at Breaking the Spine, that gives bloggers the opportunity to highlight upcoming releases about which they are extremely excited.
This week, I'm favoring a bit of fantasy and fairy tales in my life - mainly because I spent an hour or so just this morning finishing up the last installment of Kiera Cass' The Selection series, The One, but MORE ON THAT LATER - so when I saw that Holly Black had a new fantasy set to debut early in 2015, you could say that I got a little bit irrationally excited. Set for publication on January 13th, 2015, is Holly Black's The Darkest Part of the Forest.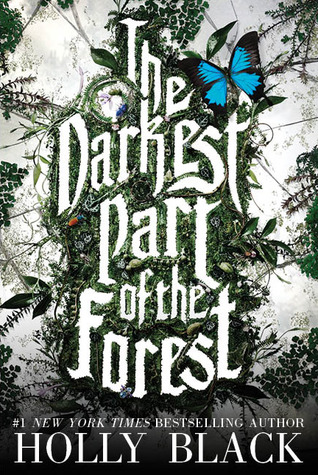 In a world where monsters run rampant and fairies live alongside humans in semi-harmony, Hazel lives with her brother, Ben, in the town of Fairfold. Primarily a tourist attraction full of harmless magic, Hazel knows how deadly the fairies could really be, and knows how to stop them... at least, she has before.
Meanwhile, in the heart of the woods, a boy lies in a glass coffin, with horns on his head, and ears as pointed as knives. Ben and Hazel were both in love with him, at one point.
Having slept through generations, one day, he awakens.
And suddenly, nothing will ever be the same. All of those years Hazel has pretended to be a knight, are all she really has to defend herself now, but with the whirlwind of new love, old loyalties, and the pain of betrayal, those years seem to be lost in the shuffle.
Why am I excited?
Oh, come ON, what do you mean, I have to wait until the new year? Holly Black is a master at this kind of thing, and I cannot wait that long to get my hands on it. From co-writing The Spiderwick Chronicles with Tony DiTerlizzi, to the Modern Faerie Tales series, to even last year's The Coldest Girl in Coldtown, Holly Black knows how to please her audience with creepy, twisty humor, and this time, we're heading straight back into fairy tale territory.
Besides, holy moly, is that cover five million kinds of gorgeous. I need it.... NEED it. Give it too me now!
What are you waiting on this Wednesday?