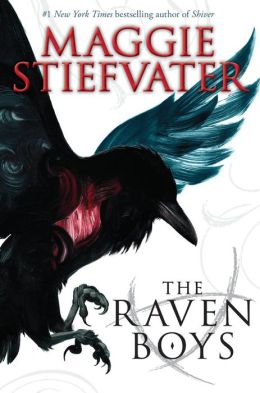 The world can make fun of the paranormal YA genre all it wants - and yes, I know I'm a culprit, too - but every once in a while, a book comes around that explains why we all fell in love with it in the first place. This is one of those books.
The Raven Boys
- the first in
Maggie Stiefvater's The Raven Cycle series
- follows the story of Blue Sargent, the daughter of a psychic, who is destined to kill the boy she loves, when she kisses him. With that foreboding of a destiny, you'd think things couldn't get much more complicated, but when she sees the spirit of
a young man named Gansey
on the spirit road on a cold, spring day, it sets off a series of events that lead to the revelation of a mysterious underside of their sleepy southern town. Now the girl who'd always sworn off boys finds herself in the thick of a ancient search, with four of the most difficult prep school kids she's ever met... and that's only the start of their journey.
Truth time: I had a bad experience with a fortune teller when I was 13 (and no, I'm not going to tell you the story.). But because of all this ambiance - from the house full of psychics, where Blue lives with her mother, to the strong sense of ancient mysticism -
now I want to go get my cards read
. The depictions of the many women of Blues' house and what they can all do are just so darn intriguing.
When it comes to the structure of the narrative itself, the plot can be somewhat cliche, but parts of it are just so oddball, that its endearing. Any kind of
predictability is forgiven in the extensive descriptions of magical happenings
, and there are
enough abrupt twists
to excuse even the most hardened reader hearts. There was an interesting enough mythology behind the magic, and depictions of magical places unlike others I've read before, and that made it unique in the canon of paranormal YA for me.
One of the choices
I appreciated was that it's set in the South
, in keeping with current YA trends, and something that I wished Libba Bray's
The Diviners
had been, too. I just feel like the region has this abundance of natural history and mystique to draw off of... it definitely proved a believable setting for the highbrow prep school boys, as well as the objects of their mysterious quest.
There are still a couple of qualms I have, however... like,
I don't know, the title kind of reminds me of a boy band?
This may be a silly complaint to make, but it's like each of the boys in the four-man-band they've got working for them is the personification of the band boy types - the leader, the rebel, the smart one, the mopey, cute one - and Blue is their ultimate fangirl. It was like if N*SYNC had four members, and suddenly took up a kind of Indiana Jones habit.
But even that was pretty forgivable, because let's face it: they were all
still strongly-built characters!
Truth be told, I was a little annoyed by, was that the
novel ends on a cliffhanger... make that a couple.
Normally, this might be a pretty sizable turn-off, but bearing in mind that I will most likely be following the rest of the series, it didn't bother me too much. Huzzah, to starting a new series!
Final Verdict:
The Raven Boys is a super fun YA paranormal read free from most tropes, with a great vibe, full plot, and fleshed out characters. If this is your home genre, then welcome back.