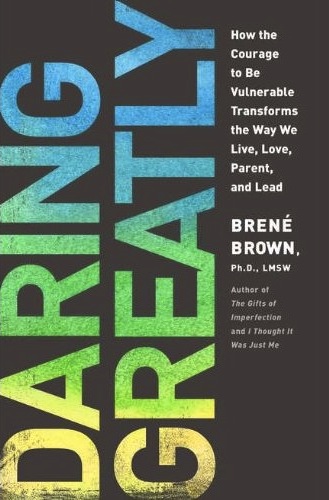 Like every lost cause of a nervous Junior year college girl with a penchant for Pinterest quotes and self-improvement books, I love a good TED Talk. So wouldn't it naturally follow that I'd pick up a nonfiction work by a TED Talk veteran.?
Okay, so that might not be exactly how it went. My Mom was the one who picked it up first, for my sister when she graduated high school, kept it for herself, then started her Fellowship, and ended up giving it to me. So, from the very outset, there was a bit of variability between what I look for in my self-help books, than my mom or sister does.
(Seriously, the last one of her leadership books that I read, was a fable about farm animals. Not joking.)
Daring Greatly
, by celebrated
TED speaker and noted "shame specialist" Dr. Brene Brown
, is a discourse on the crippling effects of shame and fear, and how they can really put a damper on the enormous amount of personal potential you have. By exploring aspects of these phenomena - like how men and women dare, or are kept from daring, differently, or how you can break down the self-constructions of alienation or timidity to better learn how to speak up - Brown puts a very direct focus on the reader, and
challenges them to participate in a greater context in the world around them.
There were numerous aspects of this book that spoke very clearly to me, especially when it came to speaking about shields against vulnerability, like perfectionism and numbing, which are both forms of self-sabotage I subscribe to absolutely.
Her rationalization of these principles made complete, recognizable sense,
and her strategies for pushing against them made sense, too.
However, a lot of what she was saying was not just recognizable because I've lived with it, but because it was something I've heard before: as I described it to a friend of mine,
it was very Pinterest-y.
These parts of it that could be summarized by things like "The First Step is the Hardest" and "Just Do It" and "You Only Regret the Shots You Don't Take" and every other piecemeal philosophy I've found in a pretty photo package on Tumblr.
Don't get me wrong... I LIVE for that kind of stuff. It's my favorite. My phone background is an inspirational quote about painting, and no, I don't paint.
And, of course, with many books about abstract self-help and leadership concepts,
I was left looking for greater examples of how I can model the principles touted within.
It kind of reminded me of a lecture my CHID professor would give.
Here's the thing: Brene Brown is an incredibly good speaker,
and I was far more enthralled in her TED talks than in her book. I almost recommend that you watch her talks before you read the book, because they not only give you a sort of intro and outline for what the book covers, but also gives you a better fit in her personality as a storyteller.
And speaking of personality, here's another thing: sometimes her handles on gender roles and motherhood were open in Theory, but
seemed to come from a context of acceptance of principles that I didn't necessarily agree with.
I especially think some of these topics were a little heavy-handed... like full acceptance of the tendency of the men she interviewed to blame their issues with vulnerability on women, resulting in (I kid you not), the unironic sentence, "I am the patriarchy."
In another instance, she makes a salient point about the objectification in the customer service industry and its ties to overuse of cell phones, but when she described a drive-through worker coming to the point of tears after she apologized for ordering while on her cell, I figured there were definitely
some instances of exaggerated Hallmark-ness happening here.
But I digress. Another random thing that I can say about its status as a book format - as well as the work of a professional academic - is that
she really knows how to cite her sources
. Her own work was definitely bolstered by similar conversations and queries held and made by those who occupy similar realms of discourse, which, seeing that everyone seems to a how-to happy quick fix these days, is a fairly popular one.
Final Verdict:
An incredibly interesting and contemporary topic discusses in an engaging way... but that I still found far more compelling in video format.
Watch the TED Talks!