Yes, it's nearly October, and the dog days of summer have now passed long behind us... but wouldn't you know it?
I'm still not finished talking about my Summer 2018 Reading Romance Challenge
. If you've been following along, you've seen me
delve into the world of '80s and '90s vintage romance
, expand my
views with contemporary historical romance
, and now, finally, we've reached the most dreaded subgenre:
modern contemporary romance.
Just to clarify: whereas August's discussion revolved around the contemporarily-published yet historically-set romance novel, this one's focused in on contemporarily-written romances set in today's day and age. If you know me well - or even a little - you know that in terms of YA fiction,
this is probably my most-maligned subgenre,
taking up zero space in my home shelves, and rarely warranting any form of checkout from the library. In terms of expectations as to how well this particular month of reading would go... let's just say that morale was not high.
how to choose?
The rules were as follows:
these books must have been published within the last few years, or be a part of series that are still in the process of being completed. They must also be set during that time period.
Though, to be honest, I'd been juggling between whether I wanted to flex the rules in this category a little, and include YA romances
as well, but in the end, I wanted to make the criteria for judging consistent. This entire challenge was formed on the basis of attempting to try something new, after all!
The difference is,
you can really tell a vintage or historical romance by their cover... but the same cannot always be said for modern contemporary
, whose covers often fit more in to the traditional fiction packaging. In an attempt to combat this, I tried looking for books in a slightly different fashion, turning more towards Internet recommendations and social media for my answers. Primarily, I looked for those with the typical sexy couple / male model on the cover (and found one), looked for any new and notable New Adult romance releases (and found one), and even briefly dipped my toe in romance novel YouTube to find inspiration (and found one on there, too!).
what I read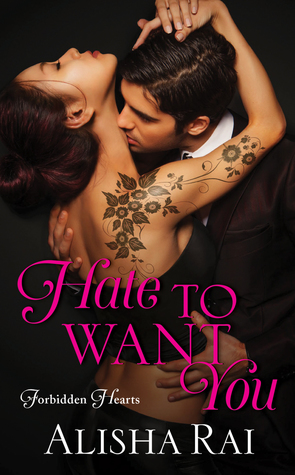 Hate to Want You (Forbidden Hearts #1), Alisha Rai
It was never supposed to be about anything other than sex. For one night a year - for almost ten years - Livvy and Nicholas would put aside the pain of their shared past, for one night of pleasure. But now, Livvy has moved back home, and it's completely changed everything, for both of their influential families.
Can the two undo ten years of anger, secrets, and frustration, in search of something more?
Do they even want to?
The book is stocked with a diverse cast... as in, really diverse, with cultures that were clearly identified, and informed the relationships of our main characters with their community/family.
I talked a little bit about the explicitly graphic nature of the scenes in some of the historical romance novels... so you can imagine the shenanigans these characters get up to without all those garters and petticoats in the way! As in, "cover your e-reader with your hand and turn down the brightness in public" sexy. Honestly, it was a lot. I was overwhelmed.
A major way it differentiated from the other romances I've read, is its inclusion of independently successful and discrete characters, with personalized senses of self-governance and motivation when it came to their decisions. They had important ties to family and friends... but nothing that kept them from defining success on their own terms first.
My favorite part? The fact that it was packed to the brim with background female characters whose choices and opinions also informed and guided the decisions of main characters. They weren't there just to provide background or necessary exposition, but they had real stakes involved in the outcome of this relationship. Not just those in the acquaintance of the female heroine, either... but for those surrounding the male love interest, too.
"Society tells women that they have to be responsible for the emotional health of their relationships and then tells them they're weak for feeling emotions. What kind of message is that?" A lot of the books I've read through this challenge that have been written in the past few years really leaned in to feminist messaging, but this one stated it the most directly and consistently across the narrative. Romances are consumed by more women than any other genre, and you never know which one of your readers is going to need to hear this message the most. I respected that a lot.
Royally Screwed (Royally #1)
, Emma Chase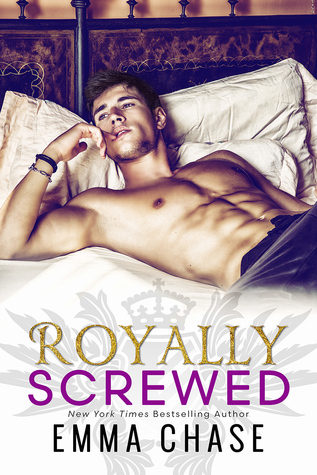 Nicholas Pembrook - dubbed "His Royal Hotness" by the press - is in a tricky spot. His grandmother, the Queen, has just informed him of her prospective solution to the flagging patriotism and declining economics of their small nation: there needs to be a royal wedding, of course! Problem is, that he's the groom... and a noble-born bride is to be selected from the dossier sitting on his desk. But when he meets Olivia, the beautiful pie-maker at a down-on-its-luck Brooklyn coffee shop, all thoughts of rules and regulations go out the window. Can they fit the romance of a lifetime into only five months?
What would Nicholas be willing to give up to stay with her?
First of all, the names were obnoxious. At first, when I saw the name "Genovia" mentioned as a neighboring country within the first few pages of the book, I thought it was a cute Easter egg of sorts, but when I learned the country the prince belongs to was named "Wessco" - which honestly sounds like a gas station chain - I decided the author just had a hard time coming up with what to call things.
Then later, when I saw that characters were given surnames like "Littlecock" and "Titebottum" - with the latter being set up as a love interest in another novel in the series - I couldn't tell whether the author was making them this bad on purpose.
Essentially, this was a Prince William self-insert fanfiction. The younger brother, party-boy prince is even named "Henry,: for goodness' sake.
Definitely for fans of E!'s The Royals... but not necessarily if you're a fan of the actual royal family.
I have to say, out of all of the books I've read as a part of this project so far... this was the first that filled all of the stereotypes of what I thought romance novels would be like, in a predominantly negative way. Between an under-performing plot, over-performing sexual stamina, cookie cutter characters, and presence of certain tropes that almost felt like an insult to my intelligence, I grew very frustrated with the novel, but still managed to power through.
Yes, I feel personally attacked by the fact this has a 4.08 on Goodreads.
The Simple Wild, K. A. Tucker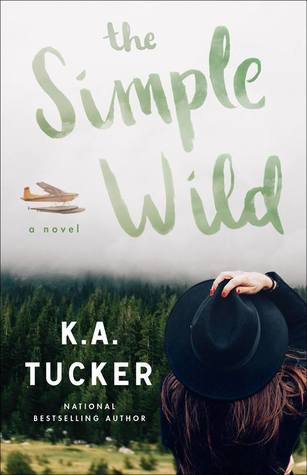 Calla Fletcher left all thoughts of Alaska, and her estranged father, behind, when he disappointed her and her mother one too many times. But after a surprise phone call and a cancer diagnosis sends her packing, she finds herself leaving Toronto, and setting out for the birthplace she hasn't seen since her mom left with her at the age of two. There, she'll have to brave not just the uncompromising daylight and unfamiliar surroundings, but a bush pilot who just can't seem to be civil around her.
But maybe there's more to rough-around-the-edges Jonah... and the small town full of people Calla can't help but love
. Could one of them even be him?
I know what you're thinking: this cover is definitely down at least one half-naked person. I had my doubts, too. But technically, this title is classified as a New Adult Contemporary Romance, which is how it is defined by not only the publisher, but the good people of Goodreads, so I think my choice to include it in this project stands. It might not have anyone making out or making a pouty face on the cover, but it is a story centered around a romance, and includes sexual themes and more than one explicit depiction of it, so I'm including it.
Like Hate to Want You, the novel deliberately incorporates people of diverse backgrounds - both in keeping with the setting of Alaska, but also as a deliberate authorial choice and means of plot reflection - in a way that lends the story realness and relatability.
Maybe it's because I read this right after Royally Screwed, but I was impressed by how this book was primarily plot-oriented, but still did so without taking away from comprehensive and unique characterizations for both the main and supporting cast.
Out of all of the romances I've read over the course of the summer, this was the first of these books to really make me cry. As in, tears positively cascading down my face.
The inclusion of sexual content doesn't hit until about 75% way through the book, which felt much more organic and less rushed than it did in the other books from this time period. Of course, after that point it was fairly no-holds-barred, but I kind of expected that.
You know how I've complained about tropes before? There were tropes here, but they made such narrative sense and were so non-stereotypical, that I didn't mind. Case in point: There was bad weather. There was a small, remote cabin. There was one bed to share. I was near deliriously happy.
some more random reading takeaways from modern contemporary
I'm growing desperate for these authors to stop describing outfits their characters are wearing, because more often than not, they're terrible. Especially when it comes to the sartorial choices of their main female characters, which are almost overwhelmingly disappointing, and sometimes severely inappropriate or gauche. (The one exception to this rule, was - unsurprisingly to me - the New Adult read.)
It's interesting, discerning how important theming or genre is when it comes to choosing romance novels. On one hand, it's the primary thing I look for when choosing - like I referenced in my Vintage Romance post, it's not like I'm about to read novels set around things like baseball, airplanes, or cowboys if those aren't genres or topics that interest me - and yet, the greater knowledge you have about a certain topic or genre, the greater the likelihood that the novel is going to disappoint you.
In more than one of these picks, the ending hangs on an unresolved plot, but in a way that clearly establishes a setting and plot for other books in the series to come. I was able to recognize it every time, even before I knew there were more in the series... and I think it might be that romances these days seem to be automatically intended for continuation.
Like I've mentioned, while every romance novel I've read so far has contained a semblance of feminist ideology - be it a somewhat generous classification due to claims that "a woman can do anything a man can do," or the inclusion of diverse and unique communities packed to bursting with supportive and independent women with their own motivations and principles - Modern Contemporary has, as a category, really performed that concept the best. Conversations and deliberate use of feminist language have been a pretty happy surprise in this category, and I've actually been fairly impressed by the comprehensive and specific nature of its inclusion. This will be touched on much more significantly in my next post...
where to next?
Speaking of which, I'm already hard at work compiling some notes and reading materials for covering the next section of this series! While I didn't explicitly outline that this would warrant its own post
when I first created the guidelines for this independent research
,
I wanted to make sure that I covered every facet of contemporary attitudes in regards to romance novels... which, naturally, means literary criticism and scholarship!
Stay tuned for a new update soon - and by that, I mean in the next couple of months - including discussions on the historical and cultural development of the mass-market paperback romance novel, what its continued popularity and modern renaissance mean for the course of its audience and genre, and explorations as to how these conversations are being held in the contemporary academic sphere.
What's been your favorite recent romance? Which of this list would you pick to read? Let me know, in the comments below!