Waiting on Wednesday is a weekly feature created by Jill at Breaking the Spine, that gives bloggers the opportunity to highlight upcoming releases about which they are extremely excited.
The sun is out in Seattle, and has been for a week or so now, which is leading me downwards in a summertime spiral which, unfortunately, isn't set to become my home for at least three more weeks. So, while I'm still trapped inside endless Psych lectures, I might as well sneak my Kindle between the pages of my textbook, and dream of summer a little harder, especially because in eight days, on May 29th, 2014, Emma Straub's The Vacationers is published!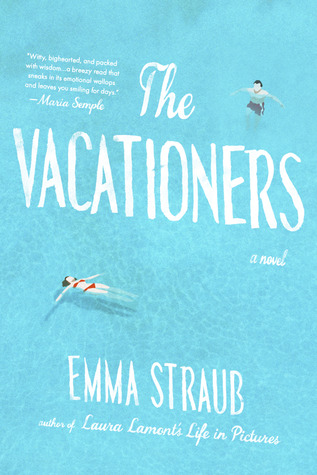 The Posts are in a celebratory mood, as they head off to the beautiful Balearic island of Mallorca, off the coast of Spain, for a vacation with their friends and relatives honoring not only their thirty-fifth wedding anniversary, but their daughter, Sylvia, and her graduation from high school. Everything is set for the perfect European adventure for the elite, complete with tapas, tennis courts, blue beaches, and a stunning lack of the Manhattan skylines beneath which tensions have been simmering at home.
Unfortunately, the friction they've attempted to escape follows them to this idyllic new place, and over the course of the vacation, secrets are exposed, childhood tensions reemerge, and even old wounds are torn open again. As the Post family celebrates their present, they find themselves striving to evade their past, while this unwelcome conflict may be just the thing that allows them a new kind of future. Those glittering waters to which they've journeyed may just allow them to emerge from their vacation renewed in a different way than they imagined.
Why am I excited?
Well, let's kick it off with the basest of my emotions in regards to this book, and let me say, I'm just excited to see a novel with an American family taking a European vacation, where no one ends up dead, murdered, or involved in some kind of unnecessary foreign espionage (or, on the flip side, with anyone falling in love in the Italian countryside. That one deals less with actual trends in fictionalization, than my mother's attempts to induce me to study abroad next year). Second, DAT COVER DOE. Talk about giving me vacation pains, those waters are glorious. Get me out of school, stat!
What are you waiting on this Wednesday?