We've experienced the '70s tv show, the star-helmed big screen installment, and now,
we might be losing out on another iteration of our favorite teenage sleuth, Miss Nancy Drew, of River Heights.
(You'd think that a character that has won hearts worldwide for almost 90 years would have a little more longevity in her adaptations.)
To understand the unrest behind the newest attempt at revitalizing one of America's greatest heroines,
we're going to have to look at her past adaptations!
The original Nancy Drew television show, airing in 1977
- and produced in conjunction with a series of
Hardy Boys
mysteries who shared top billing -
never grew to be a great hit
for its time slot, despite both the popularity of the subject matter, and the fact that Shaun Cassidy had a role as one of the Hardy brothers. One of the problems with it involved the original casting choices, of deciding who our heroine would be: "Everyone had a fixed image in their heads," producer Joyce Brotman is quoted as saying. The original actress ended up quitting after the first season - when it was clear the Hardy Boys were attracting more viewers - and the show ended up dropping Nancy completely by the third.
After that,
it took til 2007 for anyone to tackle the supername of Nancy Drew again; this time, with a major film production
geared towards the tweenage set. This version depicted a somewhat stuck-in-time Nancy - hearkening back to the yellow-covered '60s-edited versions most adults today grew up alongside - with our titular teenager played by Emma Roberts.
The movie was okay, but
still bemoaned by die-hard Drew fans as not entirely fitting the character, and not just in appearances
: my personal flinch-y moment of choice was hearing Nancy, in a fast-paced car chase, argue "I can't go above the speed limit!", something our sleuth was never afraid to do. (In fact, Nancy's car escapades are many; it's one of the reasons the book was so popular when it was first produced, as not many teen girls had the chance to own a car, let alone the knowledge to drive one!)
This was not exactly the way to please fans.
The movie was considered a flop
and plans for a sequel were shelved.
And now, we've come to 2016.
This newest adaptation's primary roadblocks were plentiful, and were already drawing ire across the Internet, even before news broke that CBS developers had pulled the project plug. Of course, the Twitter response was instantaneous, primarily due to the reasoning behind the decision posed by the network heads: that
the pilot read as "too female."
Within hours, the hashtag #toofemale was trending on Twitter, with many voicing concern that
if a time-proven juggernaut like Nancy couldn't do it, then
what kind of female characters could turn the tables of network television?
What's actually unfortunate, is that the quote is being taken out of context: the complete quote is that it was "too female for CBS' schedule," which is something the suits at CBS need to take into account in order to form a balanced viewing season. And, of course, there's the fact that
it really wouldn't have delivered the kind of series we all want, anyways.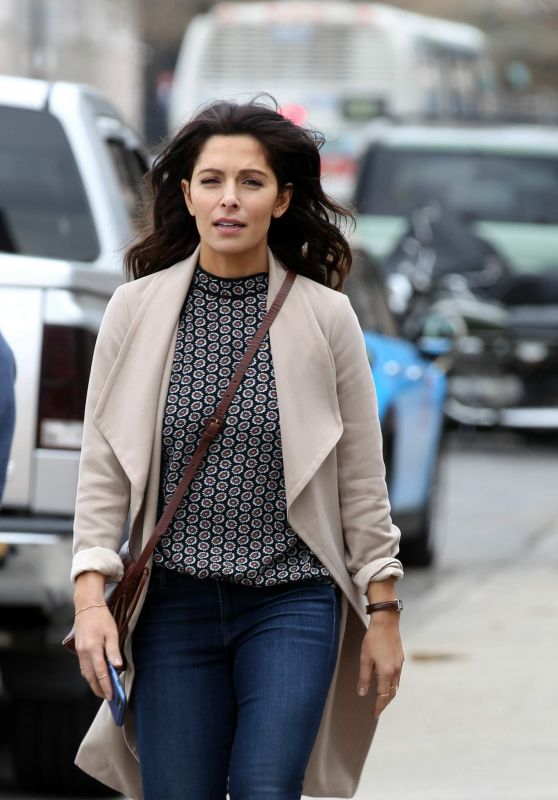 For instance, one of the initial decisions made in casting the new pilot, was to deliberately choose a "diverse" Nancy. While
the inclusion of a Nancy of non-white descent was an awesome and progressive choice
- and the woman they chose, Sarah Shahi, is a really cool, accomplished actress! - the rest of the casting was coming off as pretty lackluster (ie, predominantly white). To me, it seemed to be less deliberately inclusive casting, and more of a sense of tokenism... and the last thing our Nancy needs is to come off as a gimmick.
Besides, the overall concept for the project was a pretty well-tread and tired one:
the series would have followed Nancy as a 30-something detective liv
ing and working in New York City
... as if television needs another one of those.
And if that's not enough to swing you,
the cherry on top is this cringe-y character, with a description taken directly from
a Variety article on the original casting
: "Felix Solis will appear as Lt. Ford, an NYPD lieutenant who finds Nancy's confidence and willingness to stand up and disagree with him unnerving."
Yikes. Really... after this many police procedurals on television - many of which include women - we still have to write in that kind of an overtly terrible character?
But beyond television, it's also interesting to note that
our fearless female is still a strong Book World presence
, with a
recent cover release just a couple of years ago
for some of her most famous titles. Even beyond print, Nancy's most popular and respected medium so far is one that has her fans at the helm: the line of
Nancy Drew video games produced by Her Interactive!
These games are amazing: you play through the eyes of Nancy herself, taking part in both classic capers - like
The Secret of the Old Clock
- as well as completely new mysteries - like
Tomb of the Lost Queen
or
Shadow at the Water's Edge
- and they are
chock full of interactive environments, interesting characters, and legitimately suspenseful pacing
. They're so popular that they're now numbering into their 30s, and a rabid fan base can be found online. These Nancy fans not only help each other through tricky elements with completed walkthroughs and behind-the-scenes tricks, but also collect game Easter eggs, swap fan art and stories, and, of course, vocalize their love on the Her Interactive Facebook page.
Most recently, the games broke out of their typical format, in order to tackle a new audience: the "
Nancy Drew: Codes and Clues
" mobile game is built to
introduce young Nancy fans to the art of coding,
by using her "de-TECH-tive skills" to find who stole the missing tech fair project.
So why is it that we can find so much of a fan base in the video games, while
every other multimedia Nancy Drew project seems inevitably doomed to fail?
From a personal standpoint - as a bit of a superfan - I see a couple of reasons why the games are so much more popular than any other format produced so far. For one,
they're deliberately engineered to be relatable, as you literally play throughout the games as Nancy,
and what else does a Nancy fan want than to follow in our intrepid teenage sleuth's footsteps, other than walk in them themselves? It tackles that same problem that the original television show had - of everyone already having their own idea of what Nancy looks like - and turns it on its head... because who's to say that Nancy doesn't look just like you?
Additionally,
the games continue to find new ways to be innovative and bring in perspectives that entice young girls,
just like they did for young women when they were first published in the '30s. While the plotlines and backgrounds that we keep choosing for her big-and-small screen adaptations seem tired before they're even produced, the narratives and stories involved in creating the games are just as interesting as the classic stories, and really push the envelope as to what Nancy can do.
So, while
we still seem a long way from solving the mystery of why every Nancy Drew adaptation seems doomed to fail,
at least we know we can find our favorite sleuth still growing in popularity online. Maybe it will be some of her newest fans, who will finally figure it out!
Are you a Nancy Drew fan? What do you think about the latest TV news? Have you ever played the Her Interactive games? Let me know, in the comments below!