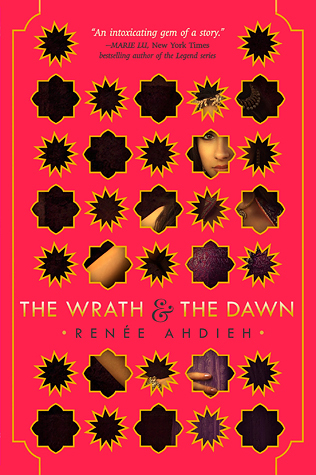 I've been motivated to finally getting around to writing this post, primarily because it's been a couple months since I've finished the novel, and my friend Callie - the same friend who enabled my LAST complete review, of Victoria Aveyard's Red Queen - has actually managed to finish it by this point as well, so what excuse do I have, really?
The Wrath and the Dawn, by Renee Ahdieh
, follows the story of Shahrzad, a new bride to a brutal king, who faces a dangerous reality in marrying this sadistic ruler: though he takes a new wife every night, she never lives to see the morning. However, avenging the death of her murdered friend - one of his previous brides - is not as easy as she hoped, as there is more to the Caliph of Khorasan than the rumors say, and soon Shazi finds herself falling in love with the last person she'd ever expect.
When perusing the notes I'd made in my book note book - where I write down my book nerd ramblings in real time while speeding through the novel at hand - I actually made a note that
I should have been writing about the first 50 pages, but I didn't actually even remember to,
because I had been so sucked in by the immediacy of the plot. (In other notes I didn't jot down, I also might have benefited from a glossary of names at some point. There's a lot of characters.)
Another bookish note: "Gaaahh, I'm so invested!" Also, "Holy ish, these stakes are real. The danger is palpable."
It's hard to match high stakes with fully fleshed-out characters,
especially with the limited time range of YA and an especially fast-moving plot with a lot of action, but by goodness this book managed it.
I also really did like the main character.
Shazi was pretty cool, a legitimately tough and loyal girl among a sea of sarcastic, wilting redheads in current YA. She reminded me of what was attempted with the characterization of Nyx from
Cruel Beauty, by Rosamund Hodge
- which would make sense, because both girls kind of go through similar circumstances - though I would argue that Shazi was done more effectively. She reminded me of one of Tamora Pierce's Tortallan heroines, someone who might have gotten along well with Alianne, you know?
There were a couple of characters I got a little annoyed by, and friends of mine have expressed similar sentiments
. I think it has less to do with the characters or plot points themselves, but how much quickly some story lines moved rather than others. My heart was primarily with Shazi the whole time, and I was just more invested in what was going on in that section of the story.
Here's what makes me happiest, in retrospect:
it was a great book, but by no means a complete one
. A lot of groundwork was laid, and yes, in true YA fashion, we can tell this is going to be a series, but there's a lot of room still left for backstory, for character growth, without leaving this first installment feeling anemic. This was a little frustrating to Callie - she thought it was going to be a standalone, though by the end of the novel, you can tell that's not the case - but still, the "cliffhanger" ending wasn't just the only unresolved point: there's still a lot of questions that need to be answered, but the book still feels like fairly filled out.
The stage is set for a killer continuation with The Rose and the Dagger in May
, and I can't wait to see what comes next!
Final Verdict:
This was one of summer's most-hyped releases, with very good reason: with a grand stakes story line that sweeps you along from start to finish, with plenty of danger and distress to keep you on your toes and swoony romance to keep you turning pages,
The Wrath and the Dawn
shapes up to be a pretty great start to what is sure to be a thrilling saga.