One of the most interesting byproducts of tracking your summer reading, like I do, is watching the trends of who exactly you're reading develop in real-time. From measuring how many female writers you're supporting, or how many authors of color you're reading, to tracking things like genre or time period or length or format, there's a lot to look at in that string of reads in a short summer period.

The most surprising - and welcome! - trend I noticed, by far, was the inclusion of LGBTQ+ friendly young adult fiction I read in the months between June and August. While it certainly wasn't planned into my TBR schedule on purpose, the fact that two of these books were Summer 2017 releases demonstrates a certain focus within the industry that deserves some commentary, as well.

Here are my mini-reviews of those reads: The Upside of Unrequited, The Gentleman's Guide to Vice and Virtue, and Aristotle and Dante Discover the Secrets of the Universe!



the upside of unrequited, becky albertalli
Molly Peskin is in a pickle: frequently the crush-er and never, ever the crush-ee, she's dealing with the fact that her twin sister, Cassie, has really got herself a new girlfriend, and she's feeling more left out than ever before. Thankfully - or maybe not? - she's found herself a new crush in Will, Cassie's new girlfriend Mina's best friend... but then again, there is her new nerdy co-worker Reid, too. But after her twin's new romance leads to her making some pretty adult decisions, and her moms decide to finally stage the wedding they always wanted, Molly finds herself caught up in more love than she knows how to deal with.
First things first: Becky Albertalli is a master of YA romances, especially those involving LGBT+ characters, and her previous work - Simon vs. the Homosapiens Agenda - is absolutely one of my favorite YA books ever... a tall order, being that contemporary romance is not exactly my fave genre. And yet, this novel
was such a highly-anticipated read, that the second it came home from the library with me, I sat down on the couch, and didn't get up again until it was finished that afternoon. It is absolutely clear that not only does Albertalli know how to write romance well, and especially in a way that appeals to modern teens, but she knows how to do so with the perfect amount of modern inflection, writing true to contemporary culture while keeping things relatable.
(Also, shoutout to the chubby girls in the room! With Molly's weight being a frequent factor in her love life contemplations, I'm always happy to see more representation for our bodies in the sometimes cringe-y realm of YA contemporary.)
While I didn't think this book left quite as much an impact on me as its predecessor, it was definitely cute, fun, and a perfect read for a sunny summer afternoon.
Final verdict: 4 stars
the gentleman's guide to vice and virtue, mackenzi lee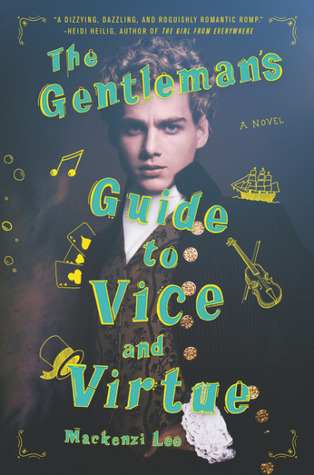 Henry "Monty" Montague is an 18th century rake and never-wannabe gentleman, which is why his domineering father absolutely insists on nothing but sterling behavior as Monty - as well as his best friend, and longtime crush, Percy - navigate around a Grand Tour of Europe, before Monty returns to learn how to manage the family estate. However, such a request has never been Monty's strong suit, and after a major party foul during a Versailles fete throws French politics into chaos, Monty, Percy, and Monty's sister, Felicity, find themselves fleeing from an intense manhunt that leads them through Spain, Italy, Greece, and more. His relationship with Percy in jeopardy, his society name blackened, and a bounty on his head courtesy of a French duke,
Monty has to decide for himself about what being a gentleman really means... and whether it's worth it.
If there's a book of this list that you've heard on people's lips this summer, it's definitely this one. From BookTube, to Goodreads (where it currently holds a 4.24 rating), to everywhere in between,
this fun and flirty romp through Europe has been drumming up some incredibly intense hype.
Unfortunately, I don't think it totally lived up to it.
It was the little things that did it in for me: while the period settings were fairly accurate, the intensity of action taking place within them strained believability too much for me to handle; where there were more fantastical elements - like the inclusion of alchemical compounds as a major plot point - I didn't feel that they fit the outer framework of the story; the main character came off as just, holistically, a jerk and a menace to society; and in terms of attempts to make it more modern, it was done in a manner that made it seem satirically anachronistic, rather than enmeshed in the reality of the setting.
However, it was very much a fun, short read, and it is a nice addition to the list of LGBT-friendly YA I've been reading recently.
Final verdict: 3 stars


aristotle and dante discover the secrets of the universe, benjamin alire saenz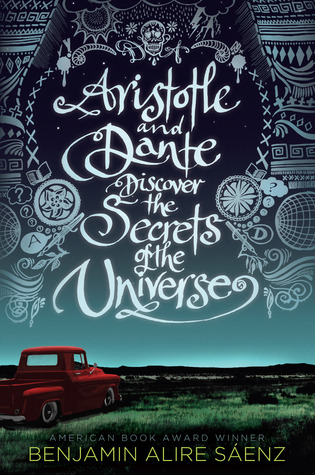 Aristotle is a loner, a fighter, an angry young man with a strained relationship with his parents, two sisters who don't understand him, and an older brother in jail. The summer seems determined to pass by in a haze of heat and days spent at the swimming pool... but when one of those days introduces him to Dante, Aristotle thinks that things might be due for a change. Tracking the friendship between these two boys across two summers,
growing up might just mean growing closer than you ever thought possible.
This is a book that's been recommended to me for years and years, but I never could come up with a great time to read it. However, earlier this year, I vowed to do so after
a round of Bookish Speed-Dating
, so I finally settled down to peruse it during these last few days of summer.
I read it in under a day, and it made me both laugh and cry out loud, which is not an easy feat! The emotionally captivating story of these two unique and relatable teenage boys navigating a new friendship - and budding romance - was absolutely enrapturing, and difficult to put down.
There were so many elements that made this book one of a kind,
from the 1980s period setting, to the focus Saenz places on their Hispanic heritage, to the dramatic-yet-believable action that swallows these two boys up. Funny, unique, and relatable, both Dante and Aristotle are so easy to love, that it's beautiful to watch how their relationship develops over the course of the book.
With a diverse main cast, unique time period and setting, and realistic and relatable supporting characters, this has been
one of the best YA romances I've ever read,
and I can't believe I waited this long to read it.
Final verdict: 5 stars
side note: tracking LGBT diversity as a publishing trend
As a byproduct of this unintentional gamut of LGBT young adult fiction I've read in a relatively short amount of time,
I've become increasingly more aware of these kinds of characters in books, and more importantly, when they're not included
. In fact, it almost feels out of place for me to not encounter any gay or lesbian characters now, especially in the realm of recently-published YA... feelings I dealt with recently while reading the short story collection,
Because You Love to Hate Me
(review coming soon!).
Like I said in the introduction to this post,
two of these books - Upside and Gentleman's - were both published to high acclaim this past summer.
(At the same time, Albertalli's
Simon
is currently undergoing filming for its movie adaptation, due to premiere sometime next year.)
Aristotle and Dante
was originally published in 2012, five years ago, and has been held up as a prime example of LGBT YA... and
has also been found on nation-wide Banned and Challenged lists every year since its publication.
On one level,
these three books speak to the greater inclusivity and positive trends within the scope of just this division of publishing,
especially because this range of book consumers is such a powerful, voracious, and vocal one. On the flip side, it's a little annoying that this marked shift is visible in only a small portion of literature: while there are certainly LGBT characters found in adult fiction - and I even read some of them this summer, as well - I don't think that they are always written as realistically, relatable, or intersectionally as in YA.
YA is still viewed as "lesser" reading: written for younger audiences, primarily written and read by women, YA has been fighting for as long as its been around for not just literary attention, but respect. These three books
demonstrate significant changes in contemporary reflections of sexuality, race, social justice
, and it's important for industry leaders to note that they're not any less worth noticing because of the library shelves they're found on.
So, it's up to us now to
make sure this particular trend has staying power:
publishing stories for diverse readers and LGBT teens cannot pass by the same as watching the tide of dystopian novels blow over. There are no swoony immortal vampires with a penchant for high schoolers here. These are real stories, written by real people, being read by real teens who see themselves really reflected in their pages... whether those reflections are as varied as a girl watching her lesbian twin fall in love for the first time, as a continent-crossing rake in the 1700s, or a young man realizing his true relationship with his background and his best friend at the same time.
While
I've always been a champion for books to help shape the minds and empathy of its readers, this is a particular trend that is absolutely capable of doing real, lasting good,
and I hope it's not just a trend, but an industry paradigm shift.
What are some of your favorite LGBT-friendly YA reads? What do you think of more recent diversity trends in publishing? Let me know, in the comments below!